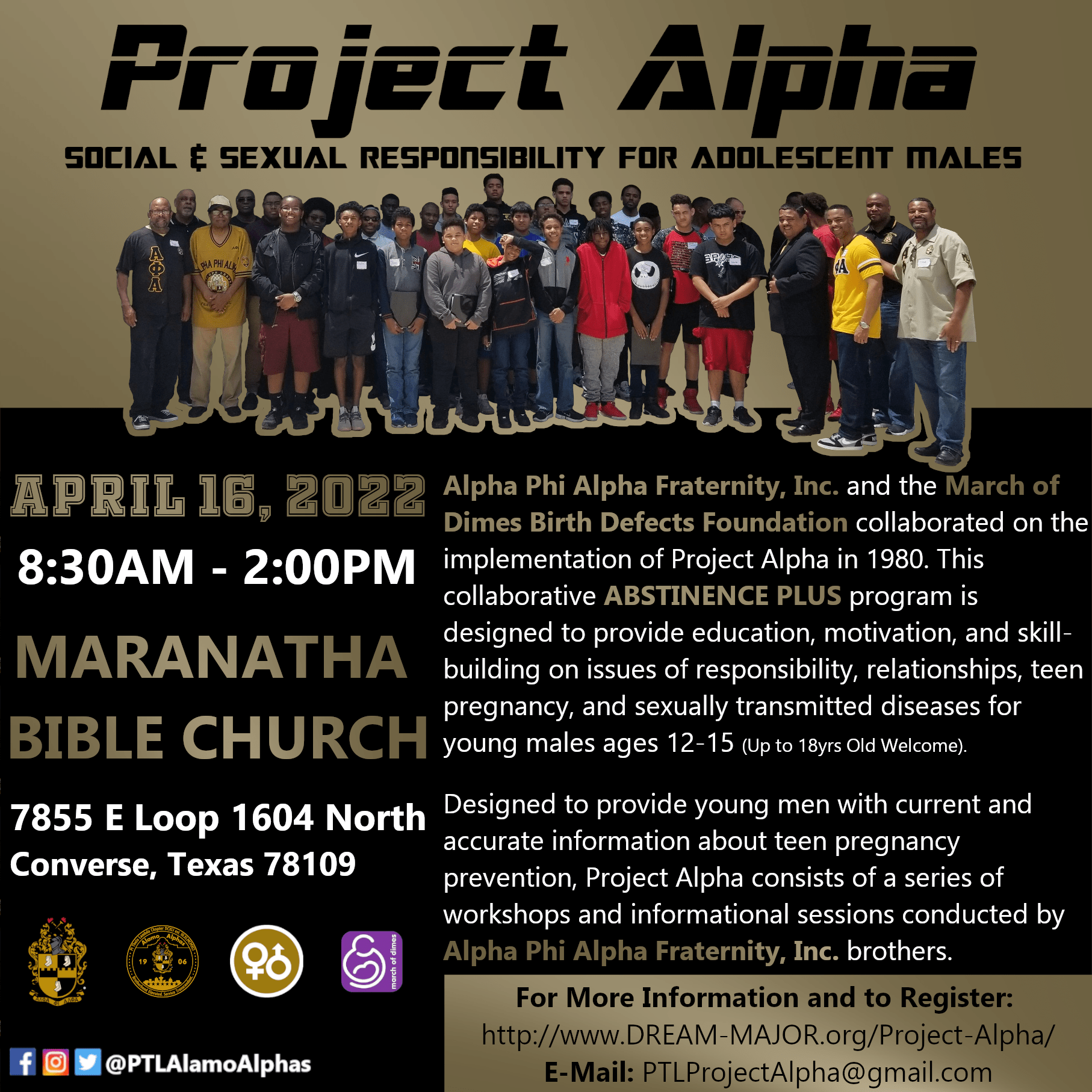 Project Alpha
SATURDAY, April 16, 2022
8:30 AM – 2:00 PM on Zoom
CONTACT:
Michael Torres
Phone: 210-243-5153
Email: [email protected]
Please click HERE for CONSENT FORM (REQUIRED)
Email: [email protected]
Alpha Phi Alpha Fraternity, Inc. and the March of Dimes Birth Defects Foundation began collaboratively implementing Project Alpha in 1980. This collaborative project is designed to provide education, motivation, and skill-building on issues of responsibility, relationships, teen pregnancy, and sexually transmitted diseases for young males ages 12-15 years. Designed to provide young men with current and accurate information about teen pregnancy prevention, Project Alpha consists of a series of workshops and informational sessions conducted by Alpha Phi Alpha Fraternity brothers. The three goals of Project Alpha programs are:
Sharing Knowledge by combating ignorance and fear with factual information.
Changing Attitudes by providing motivation toward positive changes in sexual behavior.
Providing Skills by creating a sense of empowerment and self-esteem.
Project Alpha week, which started in 2000, targets the second week of October every year. Alpha Phi Alpha Fraternity, Inc. chapters all across the country execute the program with their local March of Dimes to implement Project Alpha programs.
Program Highlights
Provides education for young males 12-15 years old on sexuality, fatherhood and the role of males in relationships.
Motivates young men to make decisions about their goals and values, and act in ways that support their decisions.
Builds young men's skills through role-playing. Utilizes appropriate male role models and mentors.
Project Alpha Curriculum
The Project Alpha curriculum focuses on five key topics:
Responsibility, Respect and the Role of Males in Relationships
Adolescent Pregnancy and Fatherhood
Protecting Yourself and Your Partner
Sexually Transmitted Diseases
Intimate Violence in Relationships